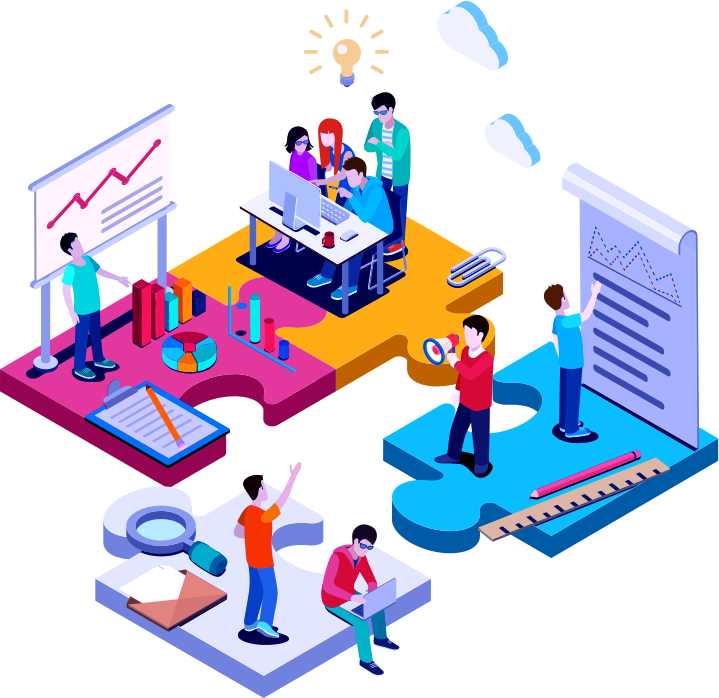 7 Emerging SEO Technologies in 2021
Websfarm_ltd
Scaling your SEO processes in 2021 can be tough – especially since what might have worked one year ago might not work today.
As an SEO professional, keeping up with the latest trends and technologies is critical. The ever-changing nature and demands of the industry require that your business constantly evolves around it.
Great new technologies, however, are worth celebrating. They make our lives easier by generating efficiencies we've never had before.
In this post, I'll highlight some emerging technologies in the SEO marketing industry, and what they could mean for the future of your organisation. If you want to scale your SEO processes this year and beyond, you should watch out for these surfacing technologies.
1. Natural Language Processing (NLP)
With the launch of Google's BERT update for search in December 2019, Google brought NLP to the forefront of the SEO sphere. With Natural Language Processing, Google has the ability to understand the intent behind a search query, as opposed to relying on specific words and phrases.
This way, the algorithm understands the context of the query, providing the user with the most relevant search results. Due to the heightened relevancy of the results, web content should be created to answer search queries accurately and directly.
When you focus on creating high-quality content, as opposed to optimising for BERT itself (which isn't something you can do as an SEO), the algorithm will notice.
2. Natural Language Generation (NLG) for short-form content
NLG enables marketers, content creators, SEOs, etc., to produce significant phrases and sentences using technology. Feeding a word or phrase into a natural language generator can supply you with effective headlines, blog outlines, product descriptions, meta descriptions and more.
Using automation, NLG helps shape and inform your short-form content. It won't write your entire piece for you, but it will supplement your writing and definitely make it read better.
Natural Language Generation as an SEO
There are many use cases for NGL technologies. One of the best examples of Natural Language Generation is Google's Smart Compose. If you're familiar with Gmail, then you've already seen this in action: Google will offer you sentence suggestions while you're in the middle of writing it.
Also, other tools like Copy.ai enable SEOs to create landing page hero text, product descriptions, Facebook primary text, email subject lines, blog intros, meta descriptions, listicles, and more.
3. Term Frequency times Inverse Document Frequency (TF*IDF )
Tools like SurferSEO, Text Tools, SEO Power Suite, etc., can help you measure a term on a specific page and compare it to a collection of pages for that specific keyword.
The technology measures how important a keyword phrase is by comparing it to that keyword's prevalence in a large set of documents. This can help guide your on-page SEO strategy while enabling the creation of content that targets a particular keyword.
4. Automated content creation (GPT-3)
While NLG is great for topic generation and coming up with short-form content, Generative Pre-trained Transformer Number 3 (GPT-3) fills in the remaining gaps. GPT-3 uses the wealth of information on the internet and existing datasets to write long-form content with AI technology.
Not only does it mimic how humans write, but it tries to predict what should come next based on what it finds on the internet.
GPT-3 as an SEO
First draft writing: Using this technology can help you write out the first draft of any piece – removing the friction and difficulty of simply starting. You can later edit it to match your brand's voice; saving you time, energy and the struggle of writer's block.
Email writing: Writing a great email takes time and consideration. It can often be difficult to come up with the right words to successfully grow your business and email list. With GPT-3 all you have to do is feed it the bullet points you'd like it to include in your email. It's that easy.
5. SEO A/B Testing
As an SEO, you've probably heard of user A/B testing – wherein you randomly assign website visitors different versions of your pages to test performance. With SEO testing, the visitors (users) are Googlebots and they're shown the same version of each page, not multiple pages.
Conducting SEO A/B tests will help inform you as to what works for your brand and what doesn't. That way, not only can you make more educated decisions when optimising your pages for SEO, but you also gain an understanding of what gets you your organic traffic. Once Google crawls your variant page, then you can compare it to your main page for insights.
SEO A/B testing as an SEO
Depending on what you want to accomplish, there are many different ways to implement SEO A/B testing. Some features you can test include:
H1
Meta description
Title tags
If you're a more advanced SEO, you can begin to test things like:
AMP pages
New content
Schema markup
6. Automated on-page content optimisation
Long-form content creation requires that you skim the SERPS, understand the headings and topics covered in the top-ranking posts, identify the missing points in the pages, and create a better outline of your own. However, this can take up a lot of time and can limit the amount of time you get to actually write your piece.
Using SEO tools like Frase AI, you can lessen the amount of time it takes to research content. It can also provide you with useful information to include in your content. For example, once you input your keyword, it can give you the top results for the keyword, stats and data to include in the piece itself, and popular questions your target audiences are asking about your keyword.
7. Non-text content factors
Creating an exceptional user experience on your website pages typically involves striking a balance between text, white space and non-text content. Non-text content already has a huge impact on SEO; directly affecting how much time visitors will spend on your site, your bounce rate, and your ROI. Some non-text content factors include:
Images
Videos
Infographics
Graphs
Charts
Animations
Audio clips
PDFs